Traditional and Modern Acupuncture
… for safe, effective, fast relief!
Sudden intense pain, or a chronic condition of the mind or body?  We provide modern and traditional acupuncture to deal with your problem.  When you come in you will be listened to and your needs will be addressed quickly and effectively. You'll find us in Tain, just north of Inverness.
You will have the choice of traditional acupuncture or modern acupuncture, perhaps supplemented with herbs, for fast relief and, in the longer term, to address the root of your health problem.
Some years ago I suffered various health problems and came to Alternatives for help. I found Dr Mearns' approach to be calm, caring and thorough. Following treatment, my health improved markedly, a very positive outcome and I still return with any fresh issues which may occur. To anyone seeking the benefits of a safe, effective therapy I would thoroughly recommend acupuncture.
A friend recommended Alternatives to me when I was suffering from Guttate Psoriasis. I had had the condition for two months and it was steadily getting worse. My entire body was covered in fiery red patches and the itch was becoming unbearable. After my first acupuncture session the itch was significantly reduced, it was such a relief. My skin also improved visibly from week to week and now, thankfully, it is back to normal. I wholeheartedly and unreservedly recommend Alternatives. My experience was positive from start to finish and I will be eternally grateful for the treatment that I received.
I have always found Brenda and Alasdair to be friendly, helpful, welcoming and professional. It is very relaxing to be put at ease from the moment I enter the premises. During treatments Alasdair's gentle manner has a calming effect which helps me feel confident that he has the skills and the knowledge to help me feel 'human' again - and it works!! Highly recommended.
I have never been looked after medically so thoroughly as when I was treated by Doctor Mearns. He discovered a heart problem and recommended that I have it checked. This led to subsequent treatment so I can honestly say that he saved my life.
Do you have a specific enquiry?
If you would like to discuss your needs, please call in at the shop, drop us an e-mail or phone.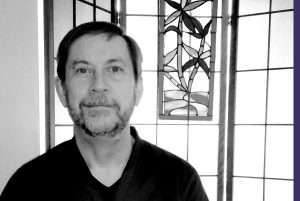 Dr Alasdair Mearns
Alasdair, has been in practice since 1999 and is accredited by 'The Association of Traditional Chinese Medicine and Acupuncture UK'. Aside from acupuncture, he is a crofter, language teacher and piper.